Sweet Southern girl Jessie
Parker worked over by 2 cocks,
brutal deepthroat and strict
restraint! | Jessie Parker | Matt Williams | Jack Hammer
Feb 24, 2014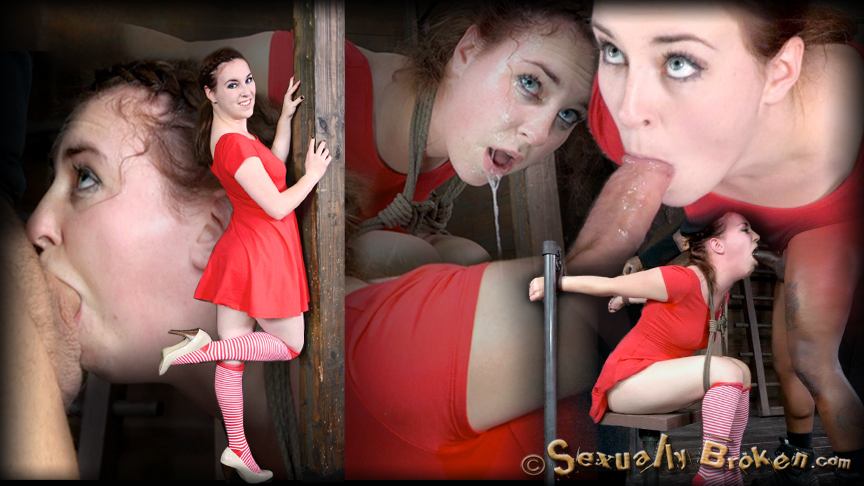 Jessie Parker is 18 years old and as fresh faced as they come, but that is not going to stop us from relentlessly taking her apart with cock. This Southern peach is going to be turned into a mouth hole for our use, nothing more. She can give the pleading big eyes all she wants as long as it is around a mouthful of cock.

We start with shackling her arms behind her back to remind her of her place. We have no use for her hands, we only need her throat and tongue. She hikes up her short red dress to show off her bubble butt, and we respond by slamming her down to her knees and making use of that pouty little mouth. One after another the dicks plunge in deeply, and the drool flows out in response. Jessie might think this is rough, but we are only just getting started. This was the warm up.

Moving quickly, we bind her her into a custom made bondage device that keeps her arms affixed strictly behind her and is the perfect height for deep throat. We finish off by cinching her neck to her knees. She can not move away or escape the dick. Our sweet South girl is now reduced to a cock sheath. Now the games really begin.

The dicks are without mercy, pounding and reshaping the back of her throat meat. Jessie unravels to a drooling sticky mess. She goes balls deep, over and over, growing more and more lightheaded. Dizzy and sex drunk is a good look on her. When we have throughly entertained ourselves with our toy, we leave her, still restrained and limp. We will be back in a bit for another round. Its not like she is going anywhere...

Pluck Part 3 | Jessie Parker
Oct 12, 2013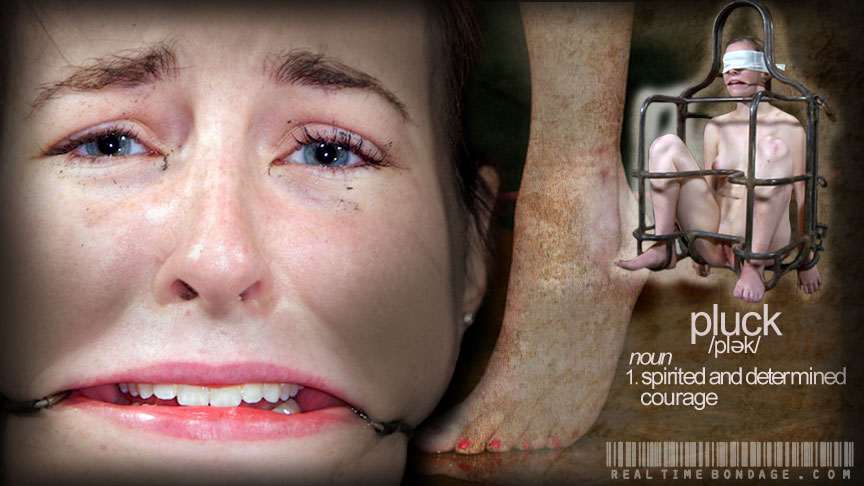 There is no cage.

Without my pussy I am useless.

The cage is my friend. The cage is my best friend.

There is no cage.
Pluck Part 2 | Jessie Parker
Sep 28, 2013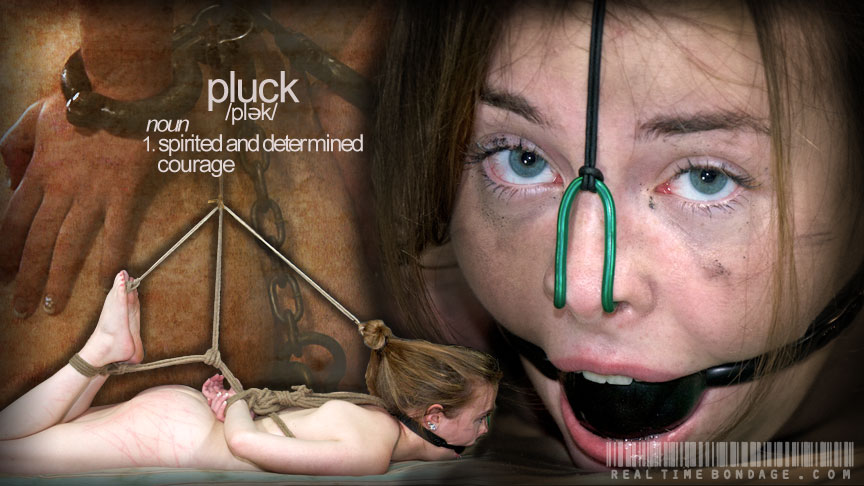 Bull rider Mattie Borders is no stranger to pain. Normally, though, she isn't the one on the ground in the hog tie. She starts bucking like a fucking bronco when the celebrator starts working its magic on her clit.

She has her fair share of scars from her extracurriculars. But riding a bull is not the same as riding the wooden horse. The way it digs into her crotch is a completely foreign feeling. You also don't get whipped while riding a bull. She gets double whipped, in fact, then shocked on her tits for good measure.
Pluck | Jessie Parker
Sep 21, 2013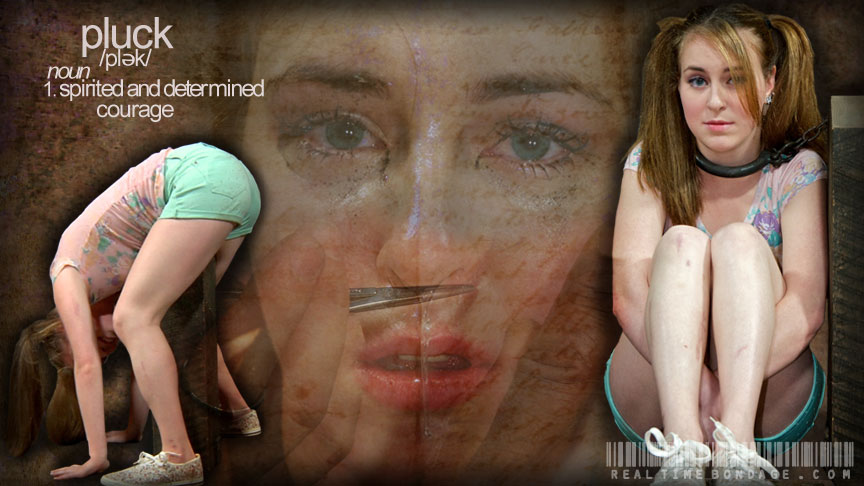 Mattie Borders joined us for an incredible live feed. She starts off chained to a post and it really restricts her range of motion. If she tries to move she has about 3 feet of chain before the metal collar around her neck won't move another inch. It doesn't give her very far to run but it is more than enough length for us to pull her off to the side and give her some bare-assed, over-the-knee spanking. The pair of panties we took of her ass get shoved down her throat to silence her cries.

Once her ass is nice and pink Jack Hammer holds her open so that Cyd Black can get a good look at the hole he's about to violate. He takes the time to show her how to groom herself as he pulls out her hairs, one by one. She may be able to suffer through the violations of having her asshole plucked and then probed. What she can't take, though, is the verbal humiliation. She is in tears, literally sobbing, as we mercilessly let her know what we think of her. Whips and chains may cause her pain but words are what will break her. She needs a small break, but there is plenty more in store for our plucky little damsel in distress.
Shades of Black | Jessie Parker | Jack Hammer
Aug 28, 2013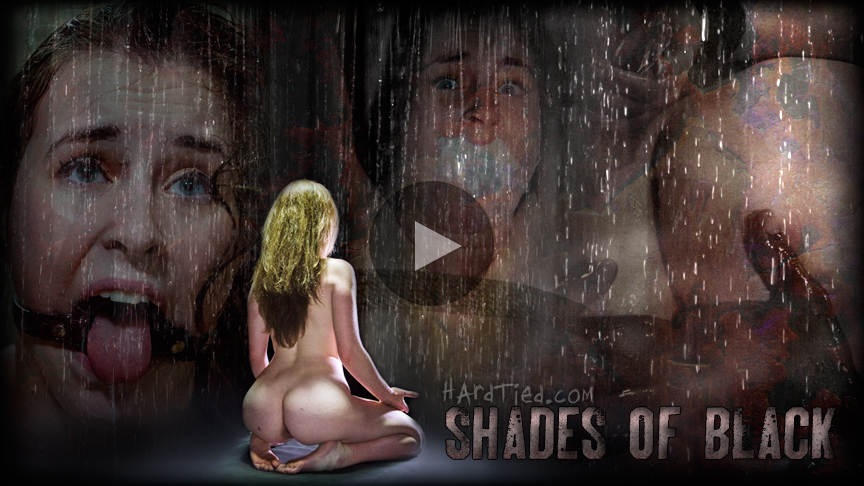 Mattie Borders fantasizes about what it would be like to experience slave training. Her curiosity gets the best of her and she writes in, requesting to be trained by Cyd. A few weeks later, she receives the following instructions. She is to arrive at the farm on a specific date and time and make her way into the upper bay of the barn. She has no idea what is in store for her once she gets there, but the experience will change her forever.